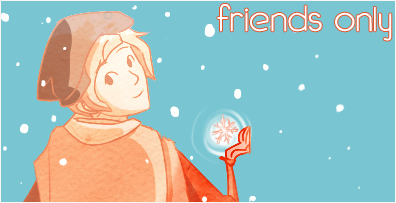 - sketchblog | art tumblr -
this journal is friends-only sorry! i always love meeting new people though so don't be afraid to say hi / comment here / just add me and i'll add you back
*
- it's just that i'd rather not have my entries open to the public!
(i mostly post tl;dr personal things and sketches/other art here)
*unless you're family, for obvious reasons
All comments on this entry are screened!
(they'll be automatically unscreened when i reply but I'll hide em again afterwards)
(
intro etcetera etc
Collapse
)
Current Mood:
hi!